You know that neuromodulators like BOTOX® Cosmetic and Dysport can fight signs of aging. What you may not know is these treatments can dramatically improve skin quality too. Learn how wrinkle-relaxing injectables promote an airbrushed appearance — no makeup or filter needed!
Science-Backed Skin Benefits Of BOTOX And Dysport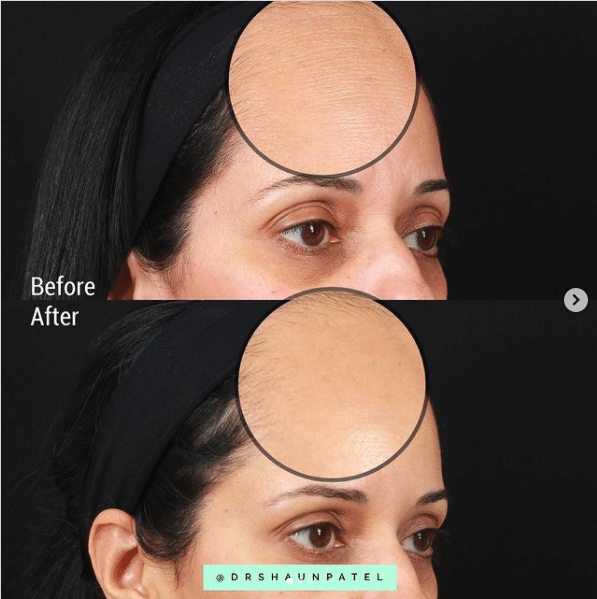 Neuromodulators are thought to improve the skin by relaxing muscles within the dermis. Some experts believe that they may even have an antioxidant effect on skin tissue. One thing is for sure — they work. Common skin benefits reported with BOTOX® Cosmetic and Dysport include:
Decreased redness
Smoother texture
Smaller pores
Improved radiance
Many injectors and patients have noticed the skin-rejuvenating nature of neurotoxins. However, these advantages are not purely anecdotal. New research has emerged to back up the benefits.
One report suggests that the anti-aging injections may promote the production of elastin and collagen, two proteins that keep the skin firm, plump, and youthful. Meanwhile, another study shows that neuromodulators may play a role in reducing sebum production and facial pore size.
Explore Your Treatment Options
There are a few different ways for you to improve your skin quality with neuromodulators. You can always book traditional BOTOX® Cosmetic or Dysport injections to treat wrinkles and lines.
Then there is the option of getting micro-doses of hyperdilute product, often called Baby BOTOX. Finally, you can inquire about HydraFacial, an advanced skincare treatment that utilizes patented technology to cleanse, extract, and hydrate your skin, perfect for superficial treatments with products like BOTOX® Cosmetic and Dysport.
Schedule A Consultation In Miami
Are you interested in unlocking smoother and brighter skin? Schedule a consultation at 786-618-5039 to discuss the rejuvenating benefits of BOTOX® Cosmetic and Dysport.
Dr. Shaun Patel is a top injector who has helped countless patients improve their skin with neuromodulators. Miami Skin and Vein serves Miami, Coral Gables, Miami Beach, Fort Lauderdale, and nearby areas of Florida.