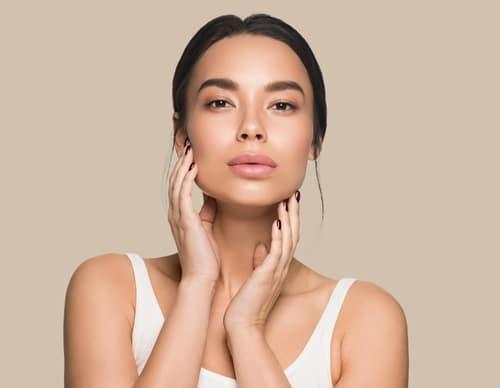 You expect your forehead to wrinkle with age and your spots to darken with sun exposure. However, you might not go into your weight loss journey with the same clarity. In fact, people are often surprised to discover that significant or rapid weight loss adds years to their appearance — even when they might feel more vibrant, energetic, and lively than ever. So, what exactly happens to our skin when we slim down, and how can we combat those changes?
Why Does My Face Look Different After Losing Weight?
A few things can happen to your face when you lose weight. First, the natural fat pads in your face and neck will shrink. While that might sound like a good thing, fat actually plays an important role in making you look young. Without it, you may notice that areas such as your temples, lips, and cheeks look more sunken than they did before you shed those extra pounds.
Fat also acts as a scaffolding that supports your skin from below. Get rid of some of that scaffolding, and you're likely to notice your skin sag, droop, fold, and wrinkle as a result.
Facial changes can happen regardless of your approach to weight loss. Lately, people have been reporting these effects after taking medications such as Ozempic® (also known by the brand name Wegovy® and generic semaglutide), which can induce significant weight loss. A new term, "Ozempic face," has even emerged to describe the facial aging side effects of the drug.
Restoring Volume And Tightening Loose Skin 
There are a number of safe and effective in-office treatments to combat facial changes caused by weight loss. The most popular services are those that restore volume or tighten loose skin.
Dermal fillers are a great way to replace facial volume and make your features look fuller. For example, Sculptra® Aesthetic stimulates collagen production for a gradual and long-lasting improvement in volume loss. Meanwhile, skin-tightening devices like Thermage® FLX can tackle laxity. Thermage FLX uses radiofrequency energy to smooth, contour, and tighten the treatment area for a more youthful appearance. The two can be used as part of a comprehensive treatment plan that will support your long-term aesthetic goals.
Celebrate Your Achievement With Aesthetic Treatments In Miami
It takes dedication to reach your weight loss goals. If you're feeling discouraged by side effects such as loose skin and volume loss after hitting such an important milestone, it might be time to consider in-office treatments. Options like dermal fillers and radiofrequency therapy can address your concerns. Even better, they can help you enjoy this new chapter of your life to the fullest.
Call 786-618-5039 for a comprehensive consultation with sought-after rejuvenation specialist Dr. Shaun Patel. Miami Skin and Vein serves Coral Gables, Miami, and nearby areas of Florida.